The Advantages of Amarr and Clopay
Clopay and Amarr garage doors are distinguished for their design, attention to detail and strengths. They stand out among the crowd with their innovative initiatives and courage to present new door styles and decorative windows like no other manufacturer. They have invested in contemporary materials and modern styles not only for the increase of the door's elegance but also for the greater convenience of consumers. One would think that such approaches are the greatest advantages of these two companies. Although this is true "Garage Door Repair Sun City" can assure you that these are not the only reasons why one should trust one of these companies for the purchase of the new garage door.
The biggest advantage of both companies is that they both give great emphasis on the proper insulation of garage doors and provide exceptional solutions for hurricane prone areas. Such solutions can make the life of consumers easier in terms of choosing the right garage doors but they will also ensure that they will be protected from any bad force of nature.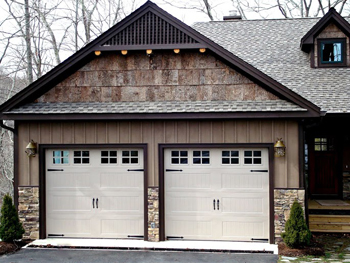 What makes Clopay and Amarr distinguishable?
Clopay has ready solutions for regions with strong storms and hurricanes. The "storm ready" garage doors have the necessary bars at the back part of the door panel. They will ensure home integrity during a strong storm or hurricanes but they can also be custom made according to specific needs of different customers. Most Clopay garage doors are insulated with polyurethane or polystyrene depending on the material of the door and have replaceable weather seals for improved energy efficiency. The doors can be insulated with even 18.4 r-value and can have up to 4 different layers. The frames of the windows also have retainers with weather seals and glass garage doors can come insulated as well.
Amarr helps you be prepared for hurricanes and strong storms as well. Although they look no different from any other garage door, wind load prepared panels will resist the strongest wind. The company manufactures doors in accordance to the wind load requirements of your region and official regulations but also your personal needs. The insulated garage doors by Amarr follow the regulations of the technical sheet set by DASMA for the proper energy efficiency of doors in terms of their r-value. The company constructs doors in accordance to the regional and personal needs of each customer. Its intention is to ensure good temperatures in the garage but also in the adjacent rooms of the house. These make great choices and cover basic needs of all consumers. You can learn more about these companies by emailing your questions to our company!